Creative crafts, book suggestions, and tips to make time for learning in your busy day.
May 12, 2010
Homemade Lemon Squares
I recently volunteered to provide dessert for 50 hungry youth group teens once a month. It's a great opportunity to serve and to try some new dessert recipes to share with you. First up? My mom's easy peasy homemade lemon square recipe.
I've always loved lemon squares but had never baked them from scratch. Unlike a lot of homemade dessert recipes, this one was a breeze and fun to do with R. This simple two step recipe came together very easily…first you bake the crust, and while it is baking, you whip up the lemon filling. All in all, a homerun recipe that is lighter than your typical dessert, without sacrificing any of the yummy flavor.
Homemade Lemon Squares
1 ¼ cup all purpose flour, divided use
3/4 cup sugar, divided use
dash of salt
5 tablespoons butter
3 egg whites
1 large lemon—zest and juice
¼ teaspoon baking powder
powdered sugar (for dusting on top)
Preheat oven to 350 degrees.
Make the crust: Mix 1 cup flour, ¼ sugar and salt in a bowl. Add the butter and using a pastry blender or two knives, cut into the flour mixture. When the butter is properly incorporated, the mixture will resemble wet sand.
Firmly press the flour mixture into the bottom of greased 8x8 baking pan. Bake for 12 minutes. Remove from oven to let cool for a few minutes.
Meanwhile, make the filling: whisk egg whites, remaining ½ cup sugar, and lemon zest in a bowl. Add the lemon juice and mix well. Add the baking powder and remaining ¼ cup flour and mix thoroughly. Pour over the top of the base, and bake for 20 additional minutes, or until the middle of the lemon mixture is no longer jiggly.
Sprinkle powdered sugar on top, if desired.
Makes 12 lemon squares.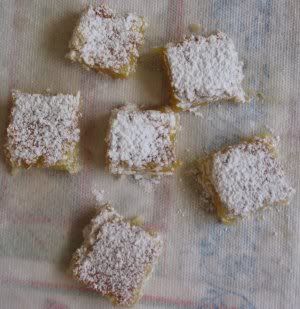 SPC