October 6, 2010
After-school treat
Each Christmas our family has certain customary items that are always in our stockings. Chapstick, gold coins, a Clementine, socks and for SPH, a dark chocolate orange. SPH loves the flavor combination of chocolate and orange, so those chocolate oranges, that break into segments when you tap it against a table, are a perennial SPH favorite.
Orange and chocolate is a great flavor combination, the tartness of the citrusy orange pairs so well against the creamy sweetness of the chocolate. So I developed this orange chocolate bar recipe as a decadent treat for our family. The recipe is super simple and straightforward and can be whipped up in a short amount of time. Since these bars are extra ooey-gooey (a technical term), they stay moist for days, if they last that long in your home.
Orange Chocolate Bars
1 stick butter, melted (8 tablespoons butter)
1 cup brown sugar
1 egg
1 teaspoon vanilla
2 teaspoons orange zest (about the amount of zest in one medium orange)
1 cup flour
½ teaspoon salt
1 cup chocolate chips
Preheat oven to 350 degrees.
In a microwave safe dish, melt the butter.
Once the butter is fully melted, add the brown sugar and stir until fully incorporated.
Whisk the egg in a small bowl, add to the butter and sugar. Add the vanilla and orange zest to the butter, and stir well.
Add the flour and salt, and still until just blended. Lastly, add the chocolate chips.
Pour into an 8x8 baking pan.
Bake for 20-25 minutes, or until a toothpick inserted into the middle comes out clean.
Let cool (this is important, since they are so moist).
Makes 16 bar cookies.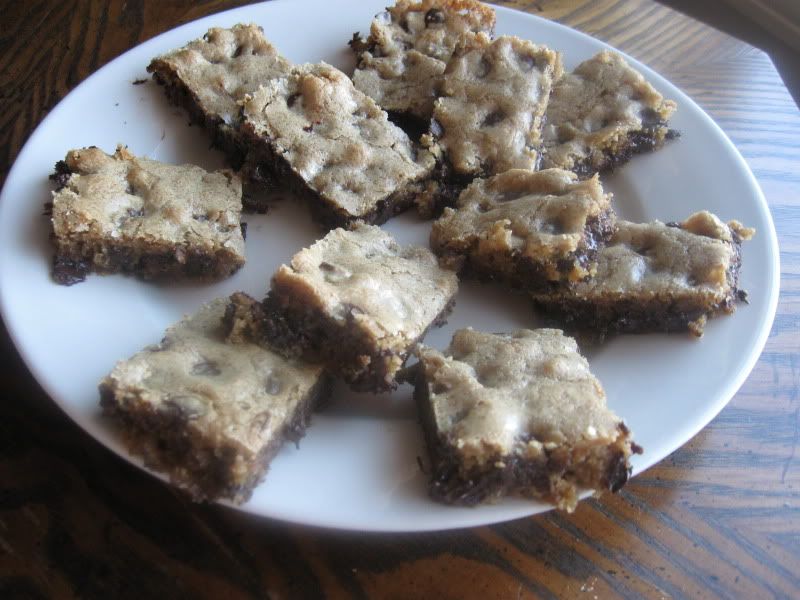 SPC