Chronicles the life of a mom, teacher, and writer trying to stay sane amid the chaos of daily life.
March 12, 2010
Spring Craft Links
How beautiful are these Cherry Tree Cards from Paint, Cut, Paste ? They are perfect for all occasions!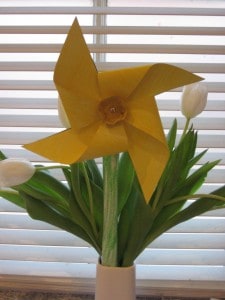 Isn't this Daffodil from Nurture Store to die for? I love it!
Frugal Family Fun Blog is filled with great ideas, but I couldn't resist this Sunflower Craft!
These popcorn flowers from Preschool Playbook are ingenious !
I love these bubble prints from Teacher Tom . They look so springlike and happy!