A foodie mommy shares tips, tricks and stories from her kitchen as she seeks out more healthful and interesting meals.
March 12, 2010
Spring Craft Links
How beautiful are these Cherry Tree Cards from Paint, Cut, Paste ? They are perfect for all occasions!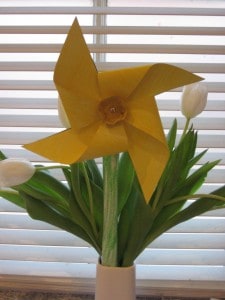 Isn't this Daffodil from Nurture Store to die for? I love it!
Frugal Family Fun Blog is filled with great ideas, but I couldn't resist this Sunflower Craft!
These popcorn flowers from Preschool Playbook are ingenious !
I love these bubble prints from Teacher Tom . They look so springlike and happy!