July 23, 2010
Under the radar
I used to have a very fine-tuned, over-active Mama Radar. Mama Radar is the name I give to that part of your brain and body that is always tuned to your children's needs while you sleep, ready to spring into action in response to the slightest sound or whimper. For years and years, my Mama Radar was always on full strength while I slept. Until L. began sleeping through the night when he was eight, and his night terrors began to finally dwindle away, I was so used to being roused from sleep constantly that I don't think I ever fully experienced deep sleep.
I first became aware of the primal power of Mama Radar when L. was only a week or so old. We had both fallen asleep in bed after a nursing session--L. a tiny being curled into my body against the crook of my left arm. Hours later I woke suddenly at the exact same point that L. startled in his sleep--his little arms and legs jerked out, and his body trembled. I still remember almost gasping in awe by the fact that we were already so in sync with each other--my mind and body tuned to the same frequency as my child's.
My Mama Radar is still going pretty strong, even now that my kids are a little older. But it's definitely lost some of its hyper-sensitivity. After years and years of sleep-deprivation, my body and mind are so thirsty for good sleep that I sometimes don't wake up for middle-of-the-night disturbances as quickly as I once did; which is why I was so surprised, a few weeks ago, to walk into T.'s bedroom one morning and find her puppy-dog piggy bank lying shattered in pieces on her bedroom floor.
How could I have slept through that?
The culprit was more than likely our cat Annie, who sometimes runs around the house at night, and perhaps launched herself off T.'s bed in an attempt to get the ceramic dog to play with her. T. was very sad to see the broken pieces of the puppy dog scattered all over her bedroom floor, and we spent a teary time picking up quarters and pennies and dimes while I tried to come up with some way to cheer her up. Then, suddenly, an impromptu craft idea struck me: the perfect way to take T.'s mind off her broken bank, while making her a new one!
We took an old coffee can (I save all my coffee cans--they are perfect for making drums, decorating as pencil holders, and making piggy banks) and headed out to the screened-in porch. I set T. loose with glitter, glue, pom-poms, markers, and sticky felt sheets and stickers.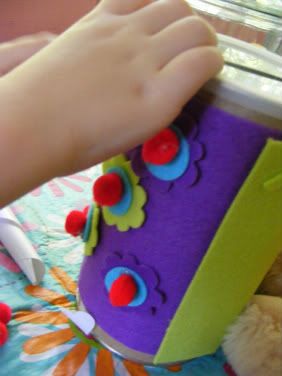 Make sure you cut a good-sized slit in the lid for the coins and bills.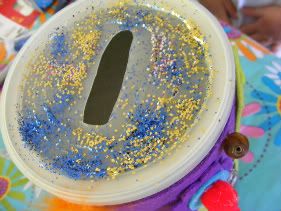 At first T. worked while sniffing back tears, her lips still set in a sad line over the loss of her bank, but before long she got caught up in the creative process. Thirty minutes later, she had a new bank and her tears had given way to a big, proud, delighted smile, like a burst of sunlight shooting through the rain--a smile that made that simple coffee can, some stickers, and glue worth more than gold itself.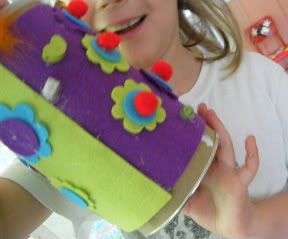 Happy Weekend!