February 1, 2010
Transformed
It snowed this weekend. Not just a tease-of-a-dusting, but a real winter storm, with snow topped by lots of ice. The snow started around 7:00 on Friday and when Scott called on his way home to tell us it was snowing the kids instantly catapulted themselves outside on the front porch, bare feet and all, hands outstretched to catch the flakes.
"It's snowing! It's snowing! It's snowing!"
It was, indeed, and it continued to snow most of the night. I fell asleep with that warm, excited feeling you get the night before you think something different, and wonderful will happen. Even now, when I think back to those standout moments from my childhood the ones that are right there, at the surface of my memory, are snow day memories.
Sometimes, when we're working on memoirs in my composition classes, I do an exercise with my students.
"Close your eyes," I tell them "And think back to the first ever memory you have in your mind. Then go up from there to another four, until you end with the memory that is closest to you."
When I do the exercise myself, the farthest back I can remember is to one winter morning, when I was four, or five. I remember my dad waking me up, and helping me sit up to look outside my bedroom window. I remember feeling utterly amazed at the winter scene outside, at how the everydayness of that square of outside world I was so used to seeing in the morning--the tree, the patch of ground underneath the window, an "s" shape of sidewalk snaking out of my view, had been so completely transformed into something magical and different. If I concentrate hard enough I can even recapture the fluttery sense of wonder I felt that morning, as I gazed outside, and my father leaned over me, pointing out the snow-laden tree, the buried ground, and the smooth space where the sidewalk still lay, buried, under a blinding cover of white.
Maybe I never let go of that moment. For me, a snow day will always bring me right back to that morning, no matter how many snow days I wake up to in my life. Even when we lived in upstate New York, and snow was a fact of life day in and day out from October until April, that moment--the one where you first step out into the world and readjust your eyes a little to the startling whiteness of it all, and to new terrain around you--that moment never got old.
I hope it never does.
***********
All weekend long the hilly streets around our house were taken over by sleds. We joined them, Scott pulling T. in the wooden Yankee Clipper we'd inherited from some former neighbors before they moved away. I think one of the things I like the most about real snow days around here is how it has the power to turn even the most practical-minded, self-restrained people into kids again. We saw neighbors we hadn't seen all year (or seen coming and going in work clothes, collecting the mail from their mailboxes, taking out the trash) hurtling on sleds down the road in front of our house, faces clenched in a mixture of fear and determination, a whoop! of excitement escaping from their mouths as they shot past our driveway.
All weekend long we were in and out of the house with our neighbors. We shared hot cocoa and snacks for kids. We opened up our homes to each other, and no one cared about wet mittens, or snowy footprints in the entryways.
In a day or two I'll be ready for the snow and ice to melt. Yesterday, I caught sight of four long, flat green blades pushing themselves up through their icy covers--daffodil bulbs, by the looks of them, lured into early growth by the unseasonably warm weekend we had two weeks ago. But for today I'm very much holding onto the here and now, to that little thrill of excitement and wonder I still feel, even after all these years, when I look out and see the world transformed.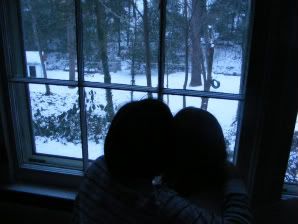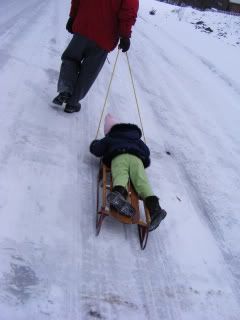 For more snapshots from our snowy weekend, or if you are having trouble seeing the photos to this post, click here to find them at Flickr.