January 21, 2009
Time capsule day (and a recipe)
If last week was filled with too many terrible, horrible, no-good, very bad days, then yesterday, our snow day, was the most perfect day possible--a shining exception to last week's mayhem. I made big bowls of steaming oatmeal for the kids in the morning (my new favorite way to eat oatmeal is to dice up dried apricots, toss them in, and drizzle lots of honey over the top), and L. ate an entire huge serving of oatmeal for breakfast--something he almost never does.
Our neighbors came over after breakfast and we watched the inauguration coverage together, while their two kids and our two kids systematically destroyed the family room. We had homemade bread with tons of butter on it for lunch, and L. ate a huge serving of tofu AND a bonus handful of raw spinach leaves. We made snow people in the yard, had a snowball fight, went sledding, drank mugs and mugs of hot cocoa--in a nutshell, we soaked up the snow day for all it was worth.
While we were watching the kids sled on the hill near our house, a neighbor commented that we'd better ALL soak in this snow day, because days like yesterday seem to happen only once every five or six years.
"You'll be 13 before this comes around again," he told L. And of course, there's nothing like a comment like that one to make my world stop for a moment (thanks, neighbor-man), and my heart lurched a little at the thought of having to wait five or six more years for another true snow day, and even the more so at the thought of my 44-year-old self, and L. at 13, and T. at 9.
Then I remembered that it had indeed been about six years since we last had a snowfall like this one. Back then, I bundled L. into his blue moon and stars snowsuit, and he tumbled about outdoors in the snow. I didn't think so much then about holding onto that moment. I wasn't working full-time at that point, and we were just a family of three. We hadn't been in North Carolina for long, so snow seemed pretty ordinary to us (living in upstate NY for seven years does that to you). I can't remember much about that snow day, six years ago--I'm sure it was magical and wonderful, maybe just as much as this one was, but I never stopped to think it would be another six years before it would happen again. Somewhere along the way I've become super-possessive about life with my kids. I greedily want to hold onto every second of their childhoods. But I told myself yesterday that if it takes six years for this to happen again, then so be it. We loved every second of it for what it was that day, and even if we are all six years older when it happens again, we'll still love every second of it--in bigger and better ways.
************
A colleague of mine was invited to a huge and fun-sounding Inauguration Day party, and I was jealous. The main course served was Obama's favorite chili recipe, and when she told me about it I googled it and found the recipe online. I also discovered that a friend of mine planned to make the same recipe for her party yesterday. So, not to be left out, I decided to try my hand at it, as well. I hope our new President will forgive me for making his chili vegetarian. I substituted this:
for the beef, and instead of red wine vinegar I used balsamic. I also put in two cans of diced tomatoes, since we didn't have any fresh tomatoes on hand. The results were better than I had anticipated, since I have, over the years, perfected my own vegetarian chili recipe and it's pretty good. But this chili was delicious! I added a tad more balsamic when it was done (to taste) and we splashed tabasco sauce over it before serving, topped with sour cream and a handful of grated sharp cheddar.
T. mixed up her own "Presidential Soup" while I was cooking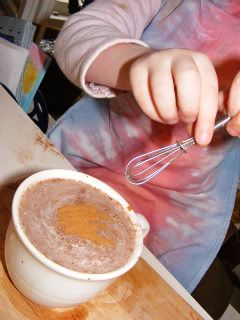 and I have to say--just between us--that it was nowhere near as appetizing as this chili, although I promised her I'd send Barack Obama's daughters the recipe.