Creative crafts, book suggestions, and tips to make time for learning in your busy day.
February 22, 2010
The stuff that binds
If you've been following this blog for awhile now, you might have picked up on the fact that here at Professor Mom's house, we're a family that loves a good tradition. And while we might muddle through much of this parenting business, there is one thing I've held onto steadfastly through it all: traditions are important--they are the splashier counterpart to that other important part of daily life: routines. Perhaps the most difficult part of adjusting to parenthood is how you have to give yourself over to routines, so early on. Without routines, the days and nights become sloppy and chaotic--babies cry and fuss, there's no end in sight. But attach a routine to it all, and things flow so much more smoothly.
At our house we depend tremendously on routines, especially since L. thrives on them--even if he sometimes fights them. We have common routines that get us through the day, and the more meaningful ones, too.
Routines like:
Eating dinner together every night as a family
Reading to the kids each night
Whispered I love yous before bed each night
Writing a special message on T.'s napkin before I pack it into her lunchbox
The silly song the kids sing to the cat and dog when we walk into the house each afternoon, after a day away at school and work
Then there are the traditions that both Scott and I work hard to keep going, like Family Cook Night every weekend, and our Earth Day picnic and, of course, Chinese New Year--L.'s favorite holiday celebration, which we celebrated this past Saturday.
I have some memory, from long ago, of my mother lamenting every now and then the fact that she tried so hard to make a moment memorable and why? I'm sure we kids behaved badly, or something went awry in the planning--we might have been dismissive, the way kids all are at some point or the other, about a traditional celebration she fought so hard to keep going.
We might have paused and looked at her, wondering what all the fuss was about.
But she kept on going, doggedly pulling out the meaningful, and shaping the ordinary around it; casting out tethers in the hopes that a few would catch, here and there, and connect us all to her life in Greece, and to the family she left behind when she left for the US. And that's the thing about traditions; you set them up and they ebb and flow as your children grow; sometimes you might wonder, what's all the fuss about? but they are the stuff families are built from, the glue that binds them together, no matter where life takes you, or how many years go by.
On Saturday the kids rushed around, decorating for our Chinese New Year dinner and arguing, as always, about who got to set the table, and whether the Valentine's Day box of chocolates should be on the one buffet, instead of the other. Scott chopped up the vegetables, and the stir fry pan sizzled with the smells of garlic and fresh ginger. We hung up two small paper lanterns that L. and Scott found from the Asian Market earlier that day, and set out the red paper envelopes next to each plate. They were simple decorations, nothing fancy.
L. turned off the lights and the kids turned the lanterns on, cupping the flimsy paper in their hands. One moment the room was just ordinary, the place where we come together every night for dinner, no matter how tired and stressed and tense we are. Sometimes dinner is messy and no fun at all and the kids fight and L. has a meltdown, or T. is silly and falls off her chair and gets hurt, just as I'm about to take my first bite, and I'm ready to pack it all in, right then and there. But then, in the blink of an eye, it was a different place, and my kids were gasping in delight at the red shine from the paper lanterns, as they glowed like embers, from the center of it all.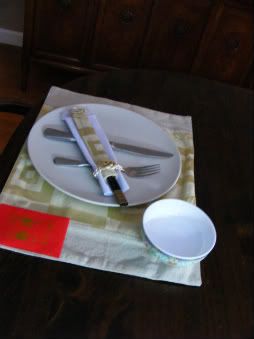 If you're having trouble seeing the photos, you can find them at my Flickr account, right here.