Creative crafts, book suggestions, and tips to make time for learning in your busy day.
September 2, 2008
So long, summer
Our pool closed for the season yesterday, as did many pools around the country. We pulled into our driveway at 4:00 p.m., after leaving Maryland at 10:00 that morning. After depositing our things in piles all over the place and checking that the fish were still okay and the rabbit happy and well-fed, I cooked up a quick batch of Chimichurra rice (thank you, Trader Joe's). Then we headed off to the pool for the Labor Day/Closing Day potluck. I think celebrating summer's end at the pool is a fitting way to see the season out. We did, after all, spend almost the entire summer at the pool. We made friends, L. burned off tons of excess energy, T. learned to swim, and we came to rely on the pool in many ways. The pool is, of course, a sanity saver for those long summer days when it's too buggy outside and too air-conditioned inside, and you just need to get out!
Even though the fall equinox is still weeks away, to me September 1st is always the end of summer. And even if the weather around here is still summery and buggy, there's a distinct end-of-summer feel in the air. The crickets rasp a little more desperately, the fireflies seem to fade, and the leaves seem unsettled, a few stray ones falling here and there--practice runs, I think, for the big leaf-drop to come. This week I'll take T. sneaker-shopping (she started preschool again on Tuesday) and dust off my fall recipes--stews and lentil soup and apple cobblers (did you know you can make a mean cobbler in the crock pot?). And it's fitting that last week T. dug out a large jolly stuffed pumpkin from the crawl space--I suppose in a matter of weeks all thoughts will be turned to Halloween.
Most of our Labor Day--that traditional last day of summer--found us in our minivan, heading back home to work and school. We listened to books on CD--Arthur's Mystery Envelope (L.'s pick) and The Magic Treehouse: Dinosaurs Before Dark (T.'s pick, of course). T. made a so long summer scrapbook and drew an elaborate picture of the beach, complete with red sun, orange sand, and some people enjoying themselves somewhere in the picture--probably with cold drinks and something crunchy to eat--while the sun wheels overhead and the waves crash deliciously on the sand.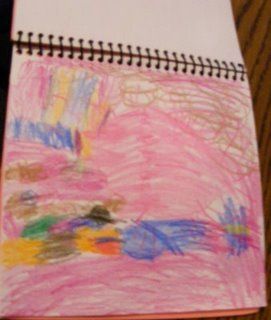 (Do you see the people? I don't see them, but T. insisted they were there.)
After the potluck at the pool, we made our way through the woods again, L. racing ahead in his blue and yellow suit, and T. sucking down the remains of the last jolly pop of the season. The fireflies blinked on and off tiredly through the trees--it's been a long summer for them, too, I think.
"So long, pool!" T. shouted.
So long, summer.
What did you do to see the summer off? How do you usher in the new season, or celebrate September? I'd love to hear about what September brings for you, and how you saw the summer off this past holiday weekend.