It's L.'s last day of school today. Yesterday he brought home his backpack filled with binders of school work, and piles of sketches, and other odds and ends. He had an autograph book, too, that classmates had signed. "Look!" he showed me. "Ms. M. signed it, too!"
He spent a long time yesterday evening writing out the most beautiful card to his teacher, and arranging and rearranging the gift bag for her and making cards for the resource room teachers. He's never, ever done any of this before, or cared to do it.
But amid all these shining glimpses into how good the year has been, there were clouds, too. L. came home yesterday after "walk up" to fifth grade a little dejected. I felt an ominous tug inside, that mental bracing I do when the clouds roll in, and the alarm bells go off. I pushed away the worries.
"What did you think of fifth grade?" I asked him.
"The classroom is too dark," he said. "And too small."
"I think it will be GREAT next year," I said--too heartily. But inside I ached for my boy, who suddenly seemed so small and thin and uncertain next to me, shuffling along in his crocs, his paper autograph book clutched in his hand, his shoulders bent from the weight of his overflowing backpack. Always--always--on that last day or two of school it suddenly hits me: just what all-consuming, back-breaking, bittersweet work it's been to get here and there are never ever any guarantees that the next year will be any easier.
On him. I'll take the work--I'll shoulder that burden ten times over--if only things could be easier on him.
*********
Remember the stuffed pizza post? I finally made it on Wednesday. Wednesday was one of those rare afternoons when I felt I had it all together. The kids got out early from school, and I had time to whip up a huge batch of pizza dough, which I left rising merrily away on the back of the stove while the kids had swim practice. When we got home the kitchen was filled with that sweet yeasty smell and in no time we had assembled the pizza.
We made the "bottom" pizza first, then put on the toppings, Feta cheese worked really well. It melted and oozed just right when the whole thing was cooked. We used a mixture of feta, parmesan, mozarella, and topped it with fresh spinach and basil.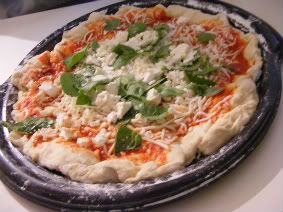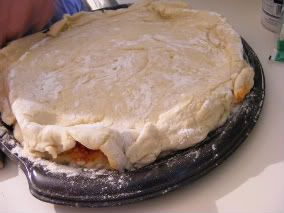 When I do it again, I won't let the top dough rise as much, and I'd make it thinner. If you like a thick, thick doughy top crust, then don't roll it too thin, but our top crust was pretty doughy. I liked it, but Scott thought it would work better rolled out a little thinner.
The kids, of course, wanted nothing to do with the stuffed pizza. Lucky for them their Mama knows them well: I planned ahead, and made them a separate regular cheese pizza.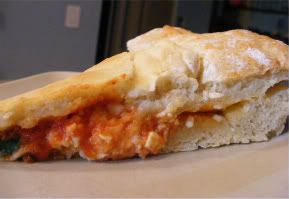 If you're having trouble viewing my pizza pie pics, you can also find them here, at Flickr.
Happy Weekend!