Creative crafts, book suggestions, and tips to make time for learning in your busy day.
June 28, 2010
Savory summer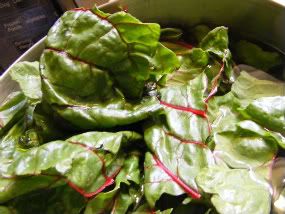 My Greek grandmother used to make the most wonderful little savory pies. Sometimes they were stuffed with olives (my favorite), or cheese, or ground meat, cooked with chopped onion and a pinch of cinnamon. These were special day pies--not something she would bake regularly. But I still remember coming in from a morning of playing outside in the hot, lemon-scented sunshine and smelling my grandmother's dough baking--like a sweet and salty cloud it would rise from the kitchen and permeate every room, making my mouth water. For lunch that day there'd be a small feast: savory pies, slabs of fresh feta, and always briny olives--all washed down with the watery orangeade drink that my grandparents bought in tall glass bottles from the local market.
Since then, I've tried many dough recipes, but my grandmother's savory pie dough had a particular density to it that I've never been able to replicate with my yeast recipes. A few months ago I stumbled acoss a recipe for a swiss chard pie, and I filed it away, the way I do with recipes that seem particularly enticing. I have a fat folder of such recipes--clipped from magazines, or printed from the internet. The pie, I thought, months ago when summer seemed so far away, would be perfect for a summer picnic by the pool. While I'm not a huge swiss chard fan, I love experimenting with different greens--tweaking the flavors in the recipes to bring out that bittersweet combination that make greens so wonderful. But what appealed to me the most about the swiss chard pie was the olive oil dough recipe that came along with it.
The best part about this recipe is the dough, although the pie itself is pretty amazing. When I make it again, I'll use three large bundles of chard, instead of the two I used. Three bundles would make for a taller, thicker pie inside. I think fresh kale or mustard greens would also work well. I also added feta cheese, which in my opinion should be baked into any dish involving greens, dough, and the summer, and also kalamata olives, which paired well with the lemon zest in the recipe. But the dough, the dough made me dream: I'm already imagining the things I can do with the dough recipe: cheese pies, olive pies, and spinach pies--and the chance to recreate in my own kitchen the flavors of my childhood summers.
Swiss Chard Pie (adapted from here)
2 tablespoons extra-virgin olive oil
1 medium red onion, diced small
4 garlic cloves, minced
2-3 bundles of Swiss chard, stems cut into small dice and leaves torn
3/4 teaspoon red-pepper flakes
coarse salt and ground pepper
1/2 cup grated Parmesan
1 cup crumbled feta cheese
1/2 cup pitted and diced kalamata olives
3 tablespoons all-purpose flour
grated zest of 1 large lemon plus 1 tablespoon fresh lemon juice
Olive oil dough
1 large egg yolk (for brushing the top of the pie)
Olive Oil Dough
In a bowl, combine 2 1/2 cups all-purpose flour, 1/3 cup extra virgin olive oil, 1/2 cup cold water, and 3/4 teaspoon coarse salt. Stir with a fork to combine, then turn out onto a board and knead for about 1 minute. Cover dough with plastic wrap and let rest, for about 30 minutes. You can cook the chard in the meantime…
In a large pot, heat the oil over medium-high heat. Add the chopped onion and garlic; cook until onion softens. Add chard stems and red pepper flakes and cook until the stems begin to soften (this took about 4 minutes).
Next, pack the torn chard leaves into the pot; season with salt and pepper. Reduce heat to medium, cover, and cook until chard leaves wilt. Uncover and cook until the chard softens. This took about 5 minutes for me. Drain, pressing out as much liquid as possible. Place chard mixture in a large bowl and toss with the feta cheese, the Parmesan, the lemon zest and juice. Season with salt and pepper. Set aside.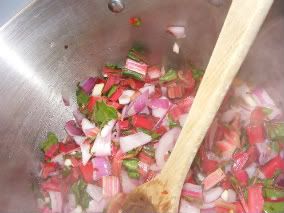 Next, the dough! Roll out about half of the dough and fit it into a deep pie pan. You might have to work a bit to get the dough to roll out enough--it will look like you'll never cover the bottom of the pan at first, but you will. Then, cover the bottom crust with the chard mixture. Roll out the other half of the dough and stretch it over the top of the pie. Seal the edges and tuck in all around. Cut several vents in the top of the pie. Combine yolk with a little water and brush over the top of the pie. Bake at 400 for about 40 minutes, or until the top is nicely brown.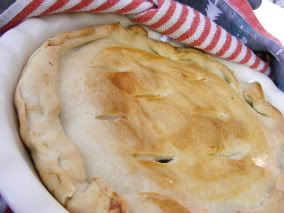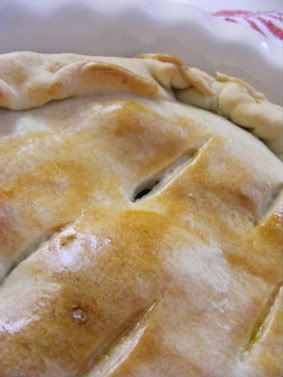 Isn't it gorgeous?