March 16, 2010
Road trip travel truths
We had been driving for about eight hours on Sunday when I really began to realize that we were far from home. I never feel we're so far when we head to Maryland to visit my family, but once we'd passed by the familiar landmarks of that NC/VA/MD part of the trip and began to head further north, I really felt the distance lengthening between our home, and the place we were headed to--the place we once called home.
In the dusk-dark-rainy part of the last hours of our drive I half-imagined our old Rochester, NY apartment waiting for us. We'd climb the wooden stairs, unlock the door, and there would be home. Instead, home was miles the other direction, at the other end of a long, long road.
My kids were amazing travelers. Fantastic ones. All the horror scenarios I had imagined before we left never materialized. Instead they happily colored and sketched, and read and watched too many movies, but they never complained once, the entire 12 hours and 40 minutes of the trip. It helped that we were packed so light that L. could sit in the back of the van, with lots of space around him, while T. sat in the middle section of the van, in her seat. There was enough physical space between the two kids that they didn't bother one another, yet we were still able to position the laptop so they could both watch the DVDs.
Still, the trip wasn't without a few glitches here and there (see #2 in particular). But then again, it was also filled with unexpected surprises (see #3 and #4). Here is a list of some of the odds and ends we learned along the way (I'm sure I'll have an even longer lost for the ride back):
1. A twelve-hour drive is a LONG drive.
2. You cannot use an extension cord to connect two laptops (so your kids can watch their two separate movies) to a car adapter, no matter how good idea it seemed before you tried.
3. Instead of the sky caving in and the world coming to an end your son surprises you by watching his sister's Kit Kittredge: An American Girl.
4. Your daughter surprises you by watching her brother's Ben 10: Alien Swarm.
5. You can pack what seems like a dozen coloring/activity books (I definitely over packed in that department) and your kids will spend hours writing stories and drawing cartoons with one pencil and a pack of white paper.
6. You can pack a coolerful of healthy snacks and fruits and your kids will still clamor for the gigantic honey buns at the gas station sore
7. The gas stations Dunkin' Donuts coffee just isn't Dunkin' Donuts coffee, it doesn't matter what the sign says.
8. You will finally—finally—after hours and hours of driving be fifteen miles from your hotel at 9:30 at night and a child will say shout from the backseat, "I HAVE TO POOP RIGHT NOW"—guaranteed.
9. You'll pass the same small Pennsylvania town named Shamokin Dam you drove past for years, turn to your husband, and remember the exact same silly joke you used to make about it ten years ago.
10. And you'll still both laugh.
11. If you make the mistake of renting Alvin & the Chipmunks, don't put it in for the kids to watch during the last two hours of the drive, when the last thing you want to hear are tiny chipmunk voices coming out of the dark.
12. On the other hand, the chipmunks were just what the kids needed at the end of the trip.
13. Even if we parents could have done without them.
Wednesday we're heading to Niagara Falls!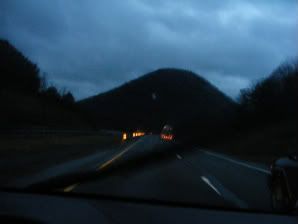 The dusk/dark/rainy part of the trip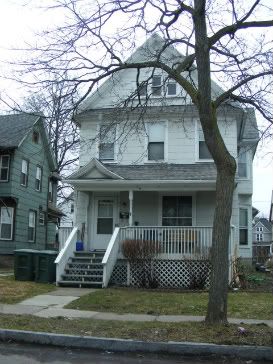 The Rochester apartment (we had the top floor). L. took his first steps right outside the house



T.'s fortune from Ming's Noodles--fits her to a tee
If you're having trouble viewing the photos for this post, you can find them at my Flickr account, right here.