March 18, 2010
Rainbow's end
When my kids were younger, I had packing the diaper bag for an outing down to a science. I always brought snacks and sippy cups and way more diapers than we needed. I had changes of clothes to last us days, and a first aid kit I took with us, and small toys and board books...you get the picture. But as my kids got older, I grew more lax. I still keep a change of clothes in the back of the van for both kids, but we often leave for outings woefully under-prepared. Kids are still kids, even if they're six and nine, and in some ways, older kids can get way more messy than the smaller versions.
This trip, though, I made a conscious effort to pack for our outings. It helped that we had the minivan, so we could make quick trips back to where we parked for water bottles (who knew there were no water fountains at Niagara Falls?), or warmer clothes. But even with access to the car, we still came up short in the outing-preparedness department--especially during the Canadian part of our trip.
Here's what we found out the hard way:
--While you can probably get away without carrying around complete changes of clothes, like you did when your kids were infants and toddlers, you should bring extra SOCKS with you. My kids are notorious for getting their feet wet/muddy, and walking around in cold weather in wet socks is no fun, and sometimes not even an option for certain kids who have real sensory issues with wet feet.
--Water. My kids get thirsty all the time. Instead of carrying around plastic bottles, we brought along their canteens so we could keep them filled. Then we left them in the hotel room.
--Band aids. I forgot to bring these but L., in a fit of foresight, packed his first aid kit, which he stuffed in his jacket pocket. T. got a blister on her foot from all the walking around Niagara Falls on Wednesday, and that band aid saved us a trip back to the hotel room.
--Wipes. Not just for babies! It's amazing how sticky, germy, and dirty older kids' hands can get when you're on the go. I had these, thank goodness! But next time I"ll bring double the amount. They are also great for wiping off sketchy-looking toilet seats in public restrooms.
--Hand sanitizer (see above). I had two bottles of this, thankfully.
--Munchies. I used to never leave the house without a bag of cheerios or that diaper-bag staple: goldfish crackers. But hunger can dampen the spirits of older kids, too, and they're a lot louder and whinier about it.
Believe me.
*********
If you haven't been to Niagara Falls yet, you should go. If you can swing it, do what we did: break up your trip by visiting Rochester, NY first, and then drive the 1 1/2 hours to Niagara Falls. While you're in Rochester, you have to visit what I think is the best children's museum ever, the Strong National Museum of Play. This place was amazing, and we lucked out and visited while they had an exhibit custom-made for L.: a gigantic Lego Castle Adventure and Art of the Brick exhibit (check out my Flickr photostream for some of the amazing Lego creations we saw). The museum has something for kids of all ages, and a truly magical Reading Adventure Land. I used to take L. there when we lived in Rochester, but since we moved away when he was 11 months old, we never made it beyond the infant's area. It was a treat to visit most of the bigger exhibits, and to watch my kids having so much fun in a museum. You could easily spend the entire day at the museum, there's so much to do.
And there's no place quite like Niagara Falls. My kids were thrilled just to cross the border into Canada, and they certainly weren't prepared for how breath-taking the Falls would be--I don't think anyone really is. The town part around the Falls is filled with cheesy, crowded shops and tourist attractions and wax museum after wax museum, and can easily get loud and overwhelming for kids and adults. We spent most of our time by the Falls and less time walking past the shops and flashing signs--although L. soaked it all up at night, and went to sleep with the curtain by his window open so he could see the flashing neon signs.
On Wednesday afternoon, after a lot of walking, and a trip to do this, we sat for thirty straight minutes on a park bench across from a spectacular view of the Falls, while the kids played in the rocks (and mud, as it turned out--see my above point about bringing a change of socks). I think we could have sat there all day, the thundering sound of the water filling the air around us. People came and went in front of us in an unending procession. When it was time to go, we took one last peek over the rails and saw a gigantic rainbow (on St. Paddy's Day too!), arching along the frothy basin of the falls. The whole world around us, it seemed, stopped with us there, too--people of all ages, backgrounds, sizes, transfixed by the sight.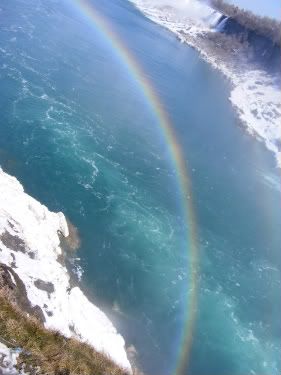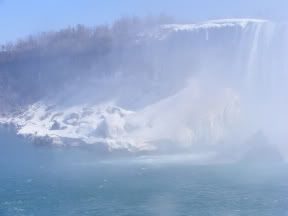 If you're having trouble viewing my photos of Niagara Falls, click here for my Flickr photostream.