February 5, 2010
Priceless pizza dough
I've already confessed that I'm not much of a meal-planner, although I do try some rough meal planning every week. One regular staple of ours, though, is homemade pizza. Pizza is one of two foods that I can make and be assured that the whole family will eat, L. included. The only other dish L. will eat with us is stir-fry--with noodles, though, not rice. And tofu cooked so it's not spongy. And broccoli that's crispy and not too mushy. And a certain type of sesame stir-fry sauce that I can only buy at the grocery store where I don't usually do my shopping.
Pizza night is a breeze, compared to all the planning ahead I need to whip up a good stir-fry. The problem with homemade pizza, of course, is that most dough recipes require that you plan ahead and give the dough enough time to rise (sometimes twice) before you roll it out. Most of the times we're home from school at 4:00, and it's not until 5:00 when homework is done and the dishwasher unloaded, and the animals fed that I'm mentally ready and able to think about starting dinner--and that's on a good day.
A few months ago I decided to look into whether I could find a quick, no-rise dough recipe that would allow us to sit down to a fresh, bubbling, homemade pizza on a weekday night even if I didn't have much time to prepare a typical rising crust recipe. And I found it! The first time I rolled out the dough I was skeptical, but my husband came home from work and took one look at the dough ball, soft and pliable, and pronounced it good. In our house, Scott is the judge of all things pizza. He acquired a lot of what he calls "pizza knowledge" in the many years in graduate school he spent delivering and making pizzas, and when he says a dough is good, then you better believe it, that dough is good.
Since then, we make homemade pizza every week, and this recipe has become a fast favorite of mine. I do add an extra pinch of coarse salt and garlic salt to the dough, since I like my dough to have a touch of salt and flavor to it, but you can leave it out. The best part of it is that I can start the pizza as late as 5:30 in the evening and we can all--ALL OF US--be sitting down together for dinner at 6:00.
And that, in my opinion, makes this recipe worth its weight in gold.
Quick and Easy Pizza Dough (adapted from here)
1 package active dry yeast
1 teaspoon white sugar
1 cup warm water
2 1/2 cups flour
2 tablespoons olive oil
1 teaspoon salt
Preheat the oven to 450 degrees. In a medium bowl, dissolve yeast and sugar in warm water. Let stand until creamy, about 10 minutes
Stir in the flour, salt and oil. Mix until smooth. Let rest for 5 minutes (only five!).
Turn dough onto a lightly floured surface and stretch and shape into a round. Transfer to a pizza pan dusted with cornmeal. Spread with toppings and baked for 15 to 20 minutes or until golden brown.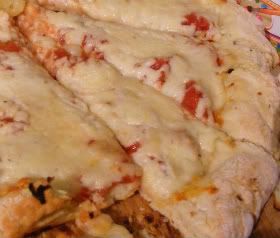 If you're having trouble viewing the pizza pics, you can also find them at my Flickr account, right here.
Happy Weekend!