A foodie mommy shares tips, tricks and stories from her kitchen as she seeks out more healthful and interesting meals.
August 5, 2009
The pods have it
When I was so sick with the stomach bug during our recent beach vacation, the only good thing that came out of it was that I lost two pounds. Coming home from vacation weighing less than when we left was almost enough to make up for eating nothing but saltines for two days--almost, but not quite. I love eating out, and eating out when on vacation is all part of the fun. Even before the actual bug knocked me out, I just didn't have an appetite that whole week. I chalked it up to the smelly house, but I should have known a stomach bug was brewing.
On that Friday, our last night at the beach, I felt okay enough to try something other than saltines washed down with ginger ale. We ended up at a Japanese sushi restaurant, of all places, only because I had a sudden craving for sushi inari and a bowl of steamed rice. While we were there, we decided to order a side bowl of edamame beans. Now, we are no strangers to the edamame bean. As a vegetarian family we rely on them (they are a complete protein, and provide all the essential amino acids we need). T. loves them, and I'll often serve shelled edamames as a side, or toss them into a stir fry. But we must have been living in some type of edamame bubble all these years because we had never, ever before eaten them in the pod. I'd seen them like that at the store but had always thought, who wants to shell a bunch of edamames?
We'd really been missing out on something wonderful, though. That night, when the waitress brought us the edamames we were surprised to find a bowl brimming with pods, lightly oiled and salted. And who knew? They were, apparently, just what a person needed after spending two days sick as a dog in a beach house that smelled of old crab. And you don't even have to shell edamames with your fingers! Just pop one end in your mouth and squeeze the beans out of the pods with your lips.
Since that night we have become addicted to edamames in their pods. We buy them by the bagful, microwave them until warm (cover with a paper towel in the microwave for best results). I spray them with olive oil, then sprinkle a generous amount of sea salt over them.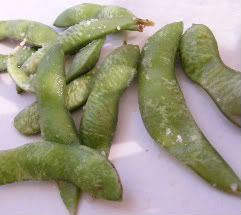 T. will eat them by the plateful, and I even paid L. a quarter to try one. He did, and pronounced it...okay.
Small steps, small steps.