A foodie mommy shares tips, tricks and stories from her kitchen as she seeks out more healthful and interesting meals.
April 30, 2009
Otherworld
Sometimes I feel like I'm a big grouch when it comes to talking/writing about L.'s school (or the state of public schools in general)--just follow the "School Daze" tag above and you'll find a whole slew of such posts. I might complain about this or that, whether it's testing, or mishandling of curriculum opportunities, or how No Child Left Behind should really be called No Child Gets Ahead. But yesterday afternoon I overheard a snippet of a conversation outside of T.'s preschool that made my blood boil a little. Conversations around there these days are all about kindergarten plans--who will go where and why.
"Where is J. going for kindergarten?" One mom asked the other.
"We decided on School X" (well-known private school).
"That's where my B. goes!" The other mom exclaimed.
"You know, we thought about public school," and here the mom's voice dropped a bit, but NOT ENOUGH of course, so that others couldn't overhear. "But you know..." and her voice trailed off. I was dying to know the rest--know what? WHAT was it that woman knew?
Then the other woman held up her hands, and flapped them in the air a little, as if warding off the spectre of the public schools.
"Say no more," she said.
There was nothing much in that conversation, yet there was also everything. People make the choices they do about their children's schools for many different and complex reasons; I don't judge those choices, but I do judge what was implicit behind that conversation. I seethed about it for a bit, then I picked up T. from school and we headed to L.'s school for a big World Bazaar they've been planning for some time. L. picked China as his country (his class had the continent of Asia) and he was actually as excited as could be about it all. That morning I cooked up his favorite food, a big batch of honey/soy sauce tofu balls (recipe below). He had put together the poster the night before, and set out a pad of paper and black paint for students to paint Chinese characters.
It was fun, and crazy, and noisy, and everything L.'s school always is. There wasn't enough room for the kids to spread out, and the a/c wasn't working quite right, yet somehow the teachers and parents seemed to roll with it all, as the kids did too, of course. And when I looked around the room at all those third graders, from so many different places, and backgrounds, some wearing costumes, some not, all united together through the powers of good food and drink and fun (and lots of school pretend dollars) it seemed to me that there are just some things money can't buy.
**************
Honey Glazed Tofu

I should say that if you can these should really be made with this tofu (THE BEST tofu ever), which you can only find at your local Asian market.
If you can't get to an Asian market (poor, unfortunate souls), you can cube regular (firm or extra firm) tofu, put it in a ziploc bag with some cornstarch, and shake until it's all coated. Then fry it in a little oil until it's crispy, but not hard. Remove from heat.
Now for the glaze: I can't vouch 100% for the measurements, because I eyeball this a lot. But mix about 1/2 cup to 1 cup honey with 1 cup of soy sauce in a small pan. Warm and stir until the honey melts into the soy sauce. Add a dash of sesame oil. Return tofu to pan and cover in glaze. Simmer on low heat until the tofu is covered. You can add more soy sauce if it seems too dry, or more honey, too, if you want more of the "glaze" effect.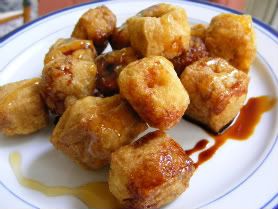 L. likes to eat the tofu alongside a pot of "pan fried noodles" (Chinese lo mein noodles). I cook up a whole batch of these at the beginning of the week. They are great cold, or tossed on top of a green salad for lunch with a little light sesame dressing.
Happy Weekend!