Chronicles the life of a mom, teacher, and writer trying to stay sane amid the chaos of daily life.
June 10, 2009
Little big engineers
In the never-ending quest to scour the internet and libraries for all science crafts and activities related to L.'s interests I found a great one last week. L. loves to build and design structures, and he has an uncanny ability to render his visions into small, almost-microscopic, blueprint-like form on paper. When he's inspired, he'll sit in his bed with his plastic protractors and compasses and his pencils and painstakingly draw his designs. T. doesn't quite possess this type of focus or interest, but she does love to work with her hands and manipulate objects. I find this type of activity oddly satisfying myself--there's something therapeutic and exciting about using your hands to render a vision into tangible reality.
The other day I found this Summer Science activity on the Zoom website. With some adaptations, it looked like the perfect one for my kids! As luck would have it, a friend was coming over that next day for a playdate. Her two boys have similar likes and interests as L., so I thought this would be a perfect fit. As we set up for the activity I couldn't keep my kids (especially L.) from diving right in and starting ahead of time. Before our guests arrived, I think the three of us had assembled about five different structures, three of which, sadly, the dog ate when we left to answer the doorbell (did I mention you'll need mini marshmallows and dry noodles for this? Manna from heaven for my dog, apparently).
Here is all you will need for this activity: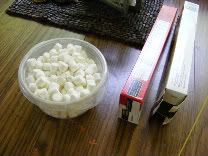 Yes, literally--just a box or two of dry spaghetti noodles and some mini marshmallows. The website suggested you use stale marshmallows, but we used fresh ones and they seemed to work just fine. I imagine the stale ones might hold the structures up better. Set your kids loose with the noodles and marshmallows and watch their vision become a reality!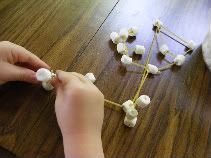 T. liked to make "molecules"
You can challenge your kids to design specific structures, like this rudimentary bridge L. designed.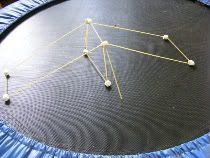 Or this more complicated pendulum.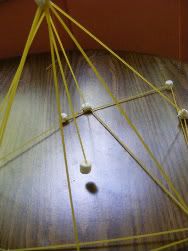 You can also try and make structures that will support objects. My friend created this winning design, and L. was able to load it with about eight balls of paper and a piece of cardboard and it still held.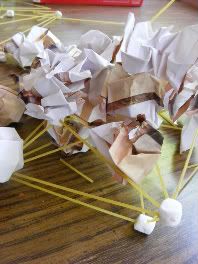 I will warn you that this activity is strangely addicting. My friend and I found ourselves drawn into it all, and before long we too had created several of our own designs. Also, beware small fingers pilfering the marshmallows, too. We had to impose strict sanctions on T. who ended up eating way too many marshmallows for my liking.
After we were done with our creations, we also shot off vinegar and soda cork bottle rockets from the back porch, with messy and explosive results, but I think I'll save that one for next week since we're planning one or two additional explosive activities for this weekend.