Creative crafts, book suggestions, and tips to make time for learning in your busy day.
June 8, 2009
Just because
We did something sneaky and wonderful and utterly spontaneous on Friday, because sometimes we're like that. Weeks ago, when Scott and I were sitting side-by-side on the couch making up our course syllabi for the first summer session he told me he was building in an afternoon off--just because, and that I should too. I looked at my syllabus. Maybe I should build in the same day off? Family time ideas began to percolate--a trip to our favorite museum, or better yet, a beach day. One glorious beach day to sit by the ocean, watch L. in his element run and dash into the waves, T. busy with some sand structure for her toys, the blue sky wheeling overhead, and cold foam in between our toes. For weeks I dreamed about the beach day and thought about it while I sat in my office, grading quizzes, looking around at the clutter, and feeling sorry for myself. A college campus is a lonely place in the summer.
When last week rolled around, though, it seemed Mother Nature was going to deal us a low blow. The forecast for Friday was bleak: rain all day on the coast, thunderstorms, maybe. We hadn't breathed a word of this beach day plan to the kids, but on Thursday, when we went to bed to the sound of driving rain outside, we felt deflated, all the glorious beachy visions vanished before our eyes, as if some giant hand had swiped them away from in front of us.
On Friday we awoke to drizzle and clouds, but when we checked the weather on the internet we found out that there was the promise of a small window of good weather in the afternoon--maybe two hours, maybe three, even. Was it worth the effort? As you know if you have kids, sometimes getting ready for an outing, whether big or small, can be way more trouble than it's worth. Getting ready for the beach can be an even grater challenge given the sheer amount of stuff the average parent has to tote along. And L. is sometimes difficult to pry loose from the house, no matter how thrilling the reason. But when we told the kids they shot into action, faster than I have ever seen them move. Inspired by the excitement and momentum, Scott and I grabbed chairs and sand toys from the crawlspace--we were a well-oiled beach-outing-preparation machine, we really were. I threw together snacks, a few sandwiches, some fruit, and two hours and twenty minutes later we were here: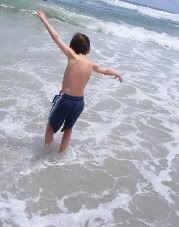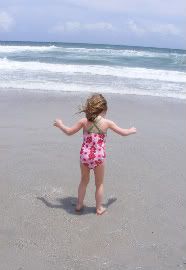 And the weather? It couldn't have been more perfect. It was as if Mother Nature had opened up a little hole for us in the sky, right over our small piece of the Atlantic, and poured down on us all her sunshine and light.
(And no, thankfully, we didn't see this crew while we were there.)
************
There's a meme going around the internet called "Sixteen Things About Summer" (or something like that. Internet memes are like that telephone game where you whisper something into one person's ear and by the time the whisper has made its way to the last person the information has changed). The idea is you're supposed to list the sixteen things summer means to you--the sixteen precious things you couldn't live without because they and what summer has come to mean to you are so inextricably intertwined. Here are mine:
1. The beach
2. Watermelon
3. Watermelon eaten on the beach (more on that later this week)
4. Our neighborhood pool
5. T.'s summertime freckles
6. The joy L. shouts to the sky when he's at the beach
7. Popsicles on the porch
8. Fireflies
9. Summer tomatoes
10. Slipping into clean sheets after a day at the beach
11. Flip flops
12. A glass of cold Riesling
13. That first dive into a cool pool
14. Digging for sand crabs with the kids
15. Hummingbirds
16. Dreaming of Greece and missing my grandparents

What does summer mean to you?