Chronicles the life of a mom, teacher, and writer trying to stay sane amid the chaos of daily life.
February 27, 2009
I never said I was Martha
I've had a love/hate relationship with February for most of my life now. Up until I met Scott, my feelings tilted strongly toward the hate side of things. February, the shortest month of the year, just feels like the longest one. I tend to spend most of February torn between wishing for a snow day and longing for the first breath of spring. February has always felt like a month to trudge through, face braced against the wind. Even the daffodils that spring up around here prematurely every February seem sad rather than cheery--it's all a big tease, and it's long. Did I mention it's a long month?
But when I met Scott, I began to appreciate February--if not every day of it, at least little bursts of it. Valentine's Day, a holiday I used to cringe about, took on new meaning. (When I was in school, there was no rule about bringing valentines for everyone--kids brought cards for the kids they liked, and you know what THAT felt like if you were on the wrong side of popular). Then, later in the month, comes Scott's birthday, followed quickly by the beginning of March, always a better, happier, more purposeful month. I still don't wholly love February, but I respect it and I love parts of it, and love my husband for giving me more reasons to get through the month.
*************
If you are here today because you are dying to get a recipe for pistachio-cherry cupcakes, then you'll have to click away, disappointed, because I'm giving you one for chocolate-cherry ones, instead. I didn't know, going into all this, that unsalted pistachios would be so difficult to find. I dragged the kids to four different stores yesterday, including a health-food store, and couldn't find an unsalted pistachio anywhere (although there were bags of salted ones). The options?
1. Wash off the salt (L.'s suggestion).
2. Use salted ones (also L.'s suggestion).
3. Pick out the pistachios from several bags of trail mix (T.'s suggestion).
4. Make chocolate-cherry ones instead.
I picked option #4 and threw all caution to the wind by taking great liberties with the liberties I was already going to take with Martha Stewart's pistachio-raspberry cupcake recipe (I thought cherries would be better than raspberries). The results? Delightful. There is nothing quite like cherries and chocolate mixed together, and the cupcakes were light and fluffy, with sweet little morsels of dried cherries and chocolate chunks surprising you at every bite. If you DO find some unsalted pistachios, feel free to make Martha's cupcakes--with raspberries or without. Otherwise, try these--they won't disappoint.
Not Martha's Cupcakes
1 cup dried cherries, loosely chopped
1-1/2 cups sugar
1 teaspoon salt
1 stick unsalted butter or butter fake-me-out, softened
2 teaspoons vanilla extract
4 eggs
1 cup all-purpose flour
1 cup semi-sweet chocolate chips
Preheat the oven to 375. Line a muffin tin with paper liners. Combine flour, eggs, vanilla, sugar, salt, and butter in a bowl (I used my hand mixer). Stir in cherries and chocolate chips until combined.
Divide batter among muffin cups. Top with two or three extra dried cherries. Bake until firm and pulling away from liners (mine took about 20 minutes, and I checked often.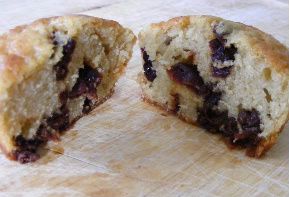 Happy Weekend!