November 11, 2008
Home cooking
The particularly difficult week L. had at school last week, combined with my husband's stomach virus this past weekend, and the cold snap that swept through on Saturday evening, made my thoughts turn to the warm comforts of home. I remembered bad days I'd had at school when I was younger--unbearable days when no one seemed my friend, or the world seemed against me, or when I'd had a brush with a jerk of a student. On those days I remember wanting, with every bone in my body, the comforts of my own home. I longed for the end of school, when my dad or mom would pick me up, and I could be at home with the people who loved me for who I was; where there were no kids to impress, or teachers who demanded too much of you, or any unfriendly faces who judged you based on superficialities, and not on who you really were, deep down--that special person your family knew and loved.
I felt those same feelings well up in me in powerful ways when I picked up L. on Friday. I wanted to whisk him home straight away, to the safety and love of our house, and ply him with warm comforts. This is what home has come to mean to me: safety, unconditional love, and acceptance--a place where you can hunker down, like a little animal, and be protected from the storms outside. It's a place that will shelter you when you're sick, and share in your joys when you're well.
So this weekend I made soup, and tried out a new pancake recipe (I'll post the delicious recipe for some amazing pancakes later in the week), and I fed them to my family. Even now, when I'm sick, I have a longing for a soup my mother and grandmother used to make when I was younger--this Greek soup, which unfortunately has chicken broth as its base. When I'm not feeling well, I long for that combination of warm rice in broth, with the bite of fresh lemon to the flavor, for the way the steam from the bowl would rise up and envelop my senses in comfort, like a soft blanket thrown over you in the cold of night. When I think about the soup, I remember my grandmother in her kitchen, and her quiet ways. I think back on my own childhood, and the way that soup would soothe even the sorest of throats, and settle the queasiest of stomachs, and the achiest of hearts.
On Saturday, when I drove home from a birthday party with the kids, I thought about what I could make for Scott, who was languishing at home, having spent every last ounce of his energy on that trip to Lowe's. I was beginning to feel sick by then as well, and T. is always enthusiastic about the chance to mix up things in a large pot and call it soup. So I bought a carton of vegetable broth, two lemons, and a large bottle of ginger ale (don't put it in the soup!), which is a must-have when you have anything in the slightest wrong with your stomach--or your soul, as it turned out. At home I chopped up some carrots and threw in half of that miraculous Mirepoix from Trader Joe's, added two cups of water, salt, pepper, and lemon, and a can of white northern beans, and let it all simmer. In the meanwhile I cooked up a cup of rice to add to the soup when it was nearly done.
The results?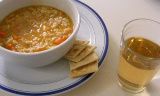 (I don't know why the photo is so small, but there you have the sick day meal: soup, saltines, and ginger ale)
A steaming bowl of soup dotted with carrots and white beans, a hint of pepper, and that lemony tang I remember from childhood. I served it for dinner that night, and L. made a case for having ginger ale himself, even though he wasn't technically sick.
"I had a hard week," he pleaded, and when I poured him a small glass of golden ginger ale, he danced in delight. While I may not be able to make everything okay in my children's worlds all of the time, I can make it more than okay in our home, where there will always be armfuls of unlimited love and acceptance, and where Scott and I will join hands and try to keep the world at bay--that harsh and sometimes unfair world that L. struggles so hard to understand.
**************
Sick Day Soup
1 carton vegetable broth
2 cups water
2 cups chopped carrots
1 cup chopped celery and onion, combined
1 garlic clove
1 can white beans, like great northern
2 lemons
1 cup cooked rice, or more to taste
lots of pepper and salt
Cook the garlic and veggies in some oil to soften and bring out the flavor. Add the broth and water, and the beans. Bring it all to simmer, then add salt, pepper, and lemon to taste. After it's all cooked, add the rice, and more lemon and salt if need be. You could add peas, but I think the carrots go best with the broth and the rice.