Every year I set out at the beginning of February planning to help my kids make the world's cutest, sweetest, most creative Valentines, and every year I find myself two or three days away from the kids' school parties with no Valentines in sight. Then we rush desperately to the craft store to find out that there's been a run on lace doilies and red paper, and we end up at our local super-evil mega store, where we purchase some slightly tacky, mass-produced Valentines for way too much money.
This year I vowed would be different. I had big plans for taking the kids to the craft store on Tuesday, on our way home from an appointment that takes 40 minutes to get to. At 4:10 in the afternoon, we passed the turn-off for the shopping center with the craft store, and I weighed whether I really wanted to take the kids in there--it was getting late, I had work to do, I knew the dishes would still be in the sink from the morning, and the thought of having to get out of the van one more time just seemed too much. Still, my heart longed for pink and red paper and fluttery doilies, and for an hour to just sit with T. and L. and cut out nothing but hearts--big ones, small ones, glittery ones, and sparkly ones.
On Wednesday morning, when I leaned over T. to kiss her good-bye (she's been fighting an ear infection and hasn't been sleeping well), she popped her eyes open.
"Good morning!" I whispered to her.
"Mama," she said (isn't it amazing how some kids can go from asleep to wide awake in almost zero seconds?), "are we going to make Valentine hearts today?"
"We sure will," I promised her.
But then the day happened--a long, busy one, with a meeting thrown in for good measure, and T. and I found ourselves at the end of it all yet again in front of the tacky Valentine's Day display at evil mega store, weighing the merits of Littlest Pet Shop cards against Tinker Bell ones. But my heart was heavy, and in my mind there fluttered still the image of hearts and glitter. And those mass-produced Valentines? Those just couldn't compete. I refused to give in--I would have those hearts.
T. and I scoured Target in search of crafty supplies, but came up empty-handed. We stopped by an end-aisle display and I looked down and saw a package of red and patterned tissue paper. What could we do with it?
This: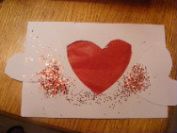 We called them our "stained glass window Valentines" (or "eleventh-hour I'm at Target and I want to be crafty" Valentines).
All you'll need for this is one pack of large white index cards, some red, pink, or patterned tissue paper, tape, glitter, and a sharp craft knife (I found one for $4.99 at Target) to cut out the hearts.
Put one index card on top of the other, making sure the lined sides face in. Cut a heart shape in the center of the card with the craft knife. Carefully remove the hearts you cut out, and tape a square of tissue paper on the lined side, over one of the heart "windows". Cover the same side with the other index card (lined side in), being careful to line up the heart windows. Tape the cards in place. We didn't want to waste the cut-out hearts, so we glued these onto the Valentines and then covered with glitter.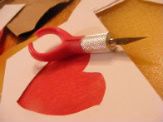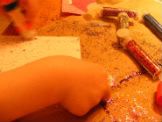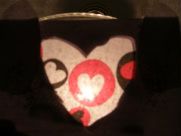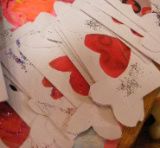 And before we knew it we'd finished the Valentines for both class parties, all while listening to the soundtrack from Pretty in Pink and eating conversation hearts.