April 23, 2010
The happy earth
My T. loves a good celebration. Her life revolves around holidays and special occasions. She lights up to think about Valentine's Day, or Halloween, or Mother's Day and Father's Day--even April Fool's Day made her jump with excitement. Earth Day, of course, made her skip out of bed with an extra happy spring in her step.
"It's Earth Day!" she said, on Thursday morning, and she threw her hands up into the air. "Happy Earth Day! Happy Earth Day!" Then she ran to the kitchen window and looked out at the morning, pronounced it beautiful, and asked what we were doing special today to celebrate.
"Well..." I said, pausing mid-lunchbox packing. Because, to be honest, I hadn't thought that far. I knew I wanted to plant something with the kids later that day, but when would I have time to buy some flowers to plant? Last year we bought some tiny white impatiens and planted them around the cat statue we bought the year before when our cat died. Last weekend when we had, miracle of all miracles, coaxed L. outside for some gardening time, he had asked about the impatiens. Would we plant more? What would we plant around the statue this year?
We've been going through a rough week with L. He's been out of sync, touchy, extra reclusive, and stormy. Days have begun badly, and ended poorly--in tears too many times (me) and yelling (L.) I was determined on this Earth Day, if I did nothing else, to get L. outside in the sun and away from the computer. I often feel, when we go through rough patches, that if I could just whisk my indoor-loving, sensitive, often off-kilter boy to some remote island somewhere, where he could just dig his toes into the sand and be away from the world for a bit, that this would solve all our problems. Of course I know it wouldn't, but I do think the outdoors is therapeutic on so many levels, even for someone who fights being there.
I left work early on Thursday to buy a white impatiens: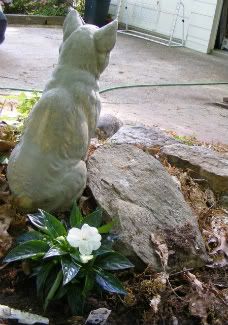 and although by the time I had coaxed (ordered) L. out of the house T. had already planted the flower, I got L. to pack some shovelfuls of dirt around the base of the plant.
Our neighbor friends from across the street came over and helped with planting some lavender, but by then L. was done with the outside. "I'm heading off to spend Earth day INSIDE," he told us as he disappeared into the house. "Where I like it best."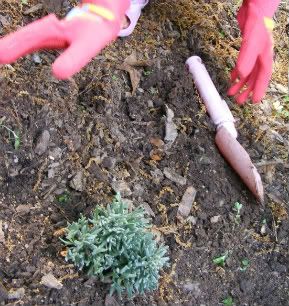 "It's HAPPY EARTH DAY," T. shouted after him, sticking her hands on her hips in sisterly annoyance. "You have to be standing on EARTH to enjoy it!"
But by then L. was already gone, swallowed up again by the house, and the lure of the world of Wookieepedia.
*********
Last year I made an apple pizza for our Earth Day, and we had our annual Earth Day picnic dinner and lit a candle in honor of Mother Earth. This year I made pizza again, only one with spicy jalapeno peppers on top for the grownups in the house, and a plain cheese one for the kids. When we were in Atlanta last week, we had the best pizza with jalapenos at a small hole-in-the-wall place at Little Five Points. For me, jalapeno peppers on a pizza should be crunchy and green, not the mushy canned kind you might get at a bad pizza place.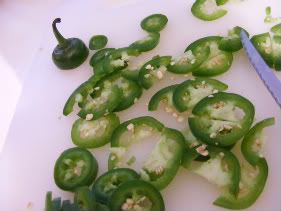 Put the peppers on before you put the pie in the oven to bake--on top of the cheese; this way they'll cook with the tomato sauce and cheese, but still hold onto their zingy crunch.
Be sure you have something cold to wash the pizza down, though--it packs a spicy punch!
Happy Weekend!
If you are having trouble seeing the pics to this post, you can also find them at my Flickr account, right here.