Creative crafts, book suggestions, and tips to make time for learning in your busy day.
December 14, 2009
Gingerbread fun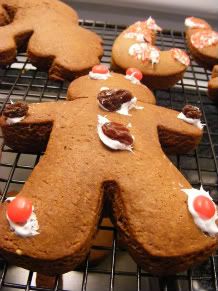 Let the baking begin!
This is what I proclaimed to T. on Saturday, when we mixed up our first batch of holiday cookie batter. We decided on making gingerbread cookies, partly because the kids and I had watched the televised gingerbread house contest the other night and partly because T. had a playdate arranged for Sunday with her Best Friend Forever J. from the preschool days. I thought it would be perfect for the girls to get the chance to decorate the cookies together--something to keep their hands busy for at least a few minutes (no matter how old your kids get, I've found that having one or two planned activities on hand during playdates can keep your sanity and your house intact).
Last year the kids and I tried to put together a gingerbread house--not from scratch, mind you, but with less-than-perfect results. After we watched the gingerbread competition on TV the kids had grand plans, of course, for making a structure of our own. I was honestly tempted for about ten minutes, especially when L. dreamed up the idea of a gingerbread Star Wars themed structure (check THIS one out!), but I wisely scrapped the idea in favor of the traditional flat cookies.
What I had forgotten, was that gingerbread cookie making is a process. Gingerbread dough is one of those doughs that needs to chill for up to 3 hours, then taken out of the fridge for at least 30 minutes prior to rolling it out. T. and I made the dough on Friday, but she was very, very impatient for the rest of the process. It is a little anticlimactic to have the dough all ready to go, then to have to stick it in the fridge, out of sight, until the next day. To occupy impatient T. on Saturday morning, we took out our tin of gingerbread cookie cutters. One of the nicest gifts a friends sent me years ago was this tin of cookie cutters for the gingerbread family. It came with a house, a dog, a girl and a boy, and the giant Papa and Mama gingerbread parents. I gave T. a stack of paper, and set her to work tracing the cutters onto the paper.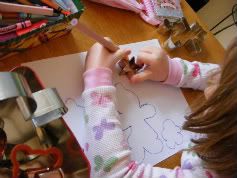 After she was done, she traced a star cookie cutter, and a tree-shaped one, then colored the whole scene in to make a winter wonderland.
By then the dough really was ready (well, almost--she also helped Scott and L. repair a roof leak in the attic, and hung all the ornaments the kitten had knocked down back up on the tree and THEN it was ready), and by the time T.'s BFF J. came over, the cookies were ready for decorating.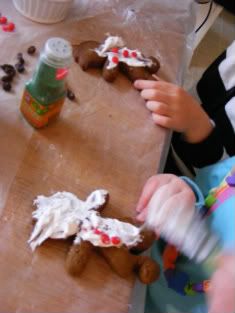 I've said it before, don't be afraid of small children and sprinkles (and glitter too, of course). It helps to spread out several large sheets of wax paper on the table, and to give the kids small butter/cheese spreaders for the icing. Toppings like red hots and raisins can be put into small bowls first, to eliminate spills, or portioned out. It also helps to remember that sprinkles vacuum up very, very easily, unlike spilled molasses and flour that the kitten steps in and tracks everywhere--but that's a story for another day.
Best Gingerbread
4 1/2 cups all-purpose
1 tsp ground cinnamon
2 tsp ground ginger
1/4 tsp ground cloves
1 1/4 tsp baking soda
1/2 cup butter, softened
1/2 cup packed brown sugar
2 large eggs
3/4 cup molasses
In a medium-sized bowl, sift the flour, cinnamon, ginger, cloves, and baking soda. Set aside dry ingredients.
In a large bowl, blend the butter and brown sugar. Add the eggs, one at a time, and then the molasses. Slowly add the flour mixture to the molasses mixture, stirring after each addition with the wooden spoon or mixer.
Knead the dough until it's soft and all ingredients are mixed in. Form it into a ball, and wrap in saran wrap. Chill in the refrigerator for 3 hours, or until the dough is firm enough to hold its shape.
Preheat the oven to 350 degrees. On a floured board or parchment paper roll out the door to a 14 inch thickness. Use cookie cutters to cut out the gingerbread men and transfer to a greased cookie sheet. Bake for 10 minutes, or until light brown at the edges.
Decorate when cooled, and gobble them up!