A foodie mommy shares tips, tricks and stories from her kitchen as she seeks out more healthful and interesting meals.
September 19, 2008
Feed the soul
When my husband and I were graduate students living in upstate New York, we used to do many exciting and interesting things like: stay up late, sleep in, and eat out at restaurants that didn't automatically provide you with coloring books and crayons when they saw you coming. We would eat out maybe once every two weeks or so. It's ironic that back then, when we were poor, struggling graduate students, we actually had more "disposable" income than we do now, when each paycheck is all accounted for down to the last nickel. Now we really only eat out when family comes to visit, or on birthdays, and then it's to those tried-and-true places--you know the ones, where you can take two kids and manage to get through a meal with minimal damage to the place and to your sanity.
Rochester, New York is an undiscovered mecca of interesting and inexpensive dining experiences--it really and truly is. It had (and hopefully still has) the best selection of ethnic food restaurants we have ever found. We had favorite Middle Eastern places, a favorite Indian place, favorite Mediterranean restaurants, and our favorite noodle house ever--Ming's Noodles. When I was pregnant with L., I craved Ming's constantly, right down to the smell of sizzling woks. I'd ease my pregnant belly in past the table's edge and wait, practically drooling (maybe I really did drool), for the plate piled high with noodles and crispy tofu and beansprouts. Scott and I both miss Ming's in crazy, almost delirious ways--why, I could write an ode to Ming's in an instant, I often feel so moved by the memory of those delicious meals.
What was great about Rochester was that there were many amazing restaurants tucked into little unassuming store fronts. A friend introduced us to a fabulous Middle Eastern place and it was so unassuming that I can't even remember the name of it. I only remember that they served the best lentil soup I have ever had in big bowls with plenty of balsamic vinegar splashed on top, and baskets filled with grainy bread. When we moved from New York, I longed to recreate that soup, even though we have to wait an awfully long time around here to get real soup weather. For me, the lentil soup embodied what I missed most about Rochester. One whiff of it now is enough to transport me back to a time of sweaters and boots, to the coziness of our little apartment on Monroe Avenue, to bundling a baby L. up in sweaters and taking him to the Farmer's Market, or to the pumpkin farm for hot cider and fresh donuts. I firmly believe we all find places that speak to us deep down--climates we love and respond to, scenery that fills us up from our souls to our toes. I loved upstate New York in ways I'll never love North Carolina, even though it's a wonderful home for us. The soup brings it all back to me--those pre-kid graduate-school days, the hard work we put in, baby L., the time in our lives when time seemed somehow slower, and we were still finding our way.
***********
This recipe is really easy, especially if you live near a Trader Joe's and can buy this: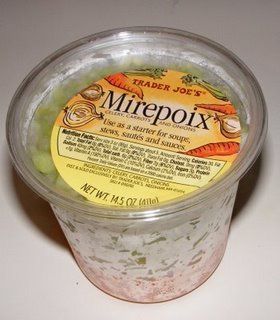 If you don't, you will need 1 cup of diced onions, 1 cup of diced carrots, 1 cup of diced celery. You can also peel and chop a few potatoes if you want a heartier soup.
Chop up a couple cloves of garlic, too.
After you have diced the veggies and garlic, or if you have taken the top off the Mirepoix, dump the contents into a large pot. Pour in a little olive oil and cook for a bit until the onions have softened.
Then, add two cups dried lentils, 6 to 7 cups (it's not an exact science) water, a small can of tomato paste, a few bay leaves, some salt and pepper, and a few splashes of balsamic vinegar. Keep the vinegar on hand because you'll need it later. T. loves to stir it all and chant some made-up song about soup and rocks.
Cover it with a lid and let cook for about two hours. You might have to check it now and again and add more water if it seems to be thickening too much. Then, when the lentils are done and you're getting ready to eat, add some more balsamic. The balsamic is really the "magic" ingredient here. You'll have to add and stir and taste for a bit, until the soup has that deep "meaty" taste balsamic gives to lentil dishes. You don't want it to get vinegary, though, so it's a bit of a patient art.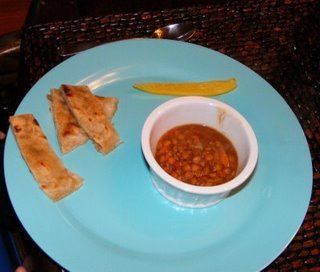 (Ramekins make perfect soup bowls for little ones.)
Even my kids eat this soup! It's perfect with some crusty bread, or pita bread, or flat Indian bread (or yellow peppers, T.'s favorites). And when it's ready, you get to shout, "Soup's on!" and marvel at how quickly everyone gets to the table.