A foodie mommy shares tips, tricks and stories from her kitchen as she seeks out more healthful and interesting meals.
March 17, 2009
Directionally challenged
I'm terrible with directions, and I can't read maps. I tend to navigate by landmarks, and my sense of direction can be completely thrown by something as simple as rain, or fog, or descending dusk. One time, when I was in college, I got so lost trying to come home that I exited desperately off the highway, found myself I-don't-know-where, and called my dad for help. He had to get on the phone with the gas station attendant in order to find out where I was—I was THAT clueless.
All this is why I was so glad to have L. and my dad along when we went orienteering on Sunday, because anyone who knows me would get a good laugh at the thought of my trying to safely navigate my children through woods with a compass and a map. But my brother has been taking his son orienteering for some time now and it's the perfect family-friendly sport. When he suggested we come along this Sunday I jumped at the chance. Would my L. like it, though, I wondered?
For those of you uninitiated in the sport of it, orienteering involves the careful use of map and compass skills coupled with speed and endurance as you try and navigate through woods and across hills to reach certain "markers" that are set up at various spots. When you insert a punch control into an electronic box at each stop, your time is registered. At the end of the course a computer at the finish line prints out your time, and if you are L. you can gleefully compare it with that of your younger cousin and discover you finished a whopping NINE seconds ahead of him. There are beginner courses, called streamer courses, like the one T. went on with my husband's wife and her young daughter. Then there are ones with varying degrees of difficulty. We went on a "white" course, which was perfect for children, and directionally-challenged people like myself. It was drizzly and damp, but we didn't mind. I did learn that it's important to dress accordingly, though. Orienteering is held fall through spring, because I'm sure no one likes the idea of trekking through bug-infested woods in the heat of the summer, but it's important to remember that it can be colder in the woods, and muddy, so make sure you do wear mud-resistant shoes and bring extra socks for the kids. It doesn't hurt to pack some light provisions in a back pack for some quick energy-boosting snacks along the way. Most orienteering events offer snacks at the finish line for hungry participants.
Did my map skills improve after Sunday's orienteering adventure? I can't say I'm an adept map reader now, but I did learn how humbling it can be to have your eight-year old correct you when you think you're headed north and you are, in fact, just flat out not.
If you love hiking, and want to couple an outdoor adventure with learning more about map and compass reading, orienteering might be the perfect activity for your family to try. Go here for a list of regional orienteering clubs near you. I was excited to find that we have a local club near us in North Carolina. You can bet we'll all try it again!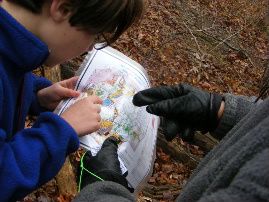 Map reading (L. is quite good at it--obviously he didn't inherit this from me)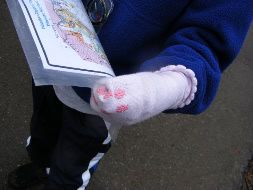 If you happen to have a younger sister, you can always use her spare pink heart socks as gloves.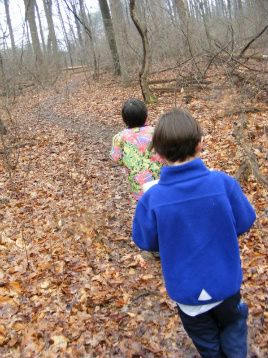 Sprinting for the finish