Chronicles the life of a mom, teacher, and writer trying to stay sane amid the chaos of daily life.
June 24, 2010
Crafty summer
Last summer, the kids and I launched Summer Science. We made a list of science experiments/activities to explore once a week. Sometimes we invited friends over to experiment with us, other times the kids and I worked on them ourselves. This summer, neither T. nor L. seem particularly interested in Summer Science. Instead, T. suggested Summer Crafts. She and I both miss doing crafts together, the way we used to do before she started kindergarten. This year we've managed to squeeze in a few crafts here and there, but there generally just hasn't been time for anything too organized.
Now, T. is chomping at the bit to begin some summer crafts. I asked her to come up with her own list of crafts she wanted to explore this summer, and here's her list:
Potato prints
Making tie-dyed shirts
Making a doll
Mixing our own clay
Sculpting and painting statues and figures made from clay
Rock sculptures
Learning to sew
Paper flowers
Building our own hummingbird feeder/birdhouse
I don't now if we'll get to all of these in one summer, or maybe we will. Maybe more will be added to the list along the way. I do know the doll project might take us some time--she's been dreaming about it ever since we read this book, one of her all-time favorites this past year. T. has some pretty elaborate ideas about how she wants her doll to turn out, and from the sound of things, she wants this one to be the doll to end all dolls.
So far we've already crossed one activity off the list: potato prints.
If you haven't done these yet, they are a fun way to combine painting with imagination. Set your child loose at the craft table, but make sure you line it with a plastic cloth or plenty of newspapers--this is a messy one! I cut up several potatoes and then used a sharp knife to cut out shapes from the middle of the potato. You can also give your child a small melon baller and have them hollow out holes. Put several colors of paints into paper or plastic plates, and let your child experiment with mixing colors, and making designs.
I love crafts like these, because once the set-up is complete, they are very child-centered. T. had fun on her own stamping different patterns, while I sat nearby.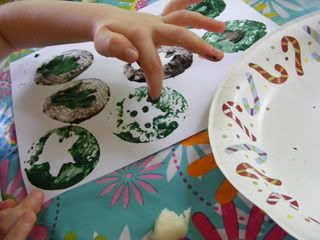 When the potato prints were dry, we used them for cards and wrapping paper. We now have a huge pile of potato print paper on our utility shelf, just waiting for a chance to be used.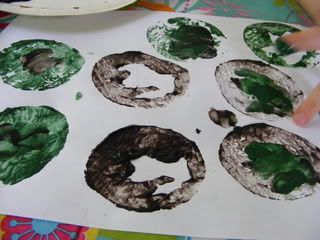 Do you have any more fun craft ideas we can add to T.'s list?