A foodie mommy shares tips, tricks and stories from her kitchen as she seeks out more healthful and interesting meals.
November 5, 2009
Blast from the past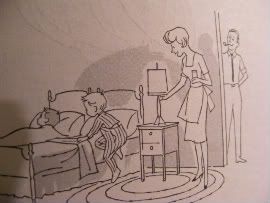 Tucked into one of the boxes that came home to rest a few weeks ago were several little pamphlets on baby/child care. They were published in the late 1960s, which to me doesn't seem like all that long ago, yet as I flipped through them I couldn't believe how dated they seemed—from the line drawings of the mother of the house, in her neat skirt and apron and tucked-in hair, to the dad of the house, with his pipe and newspaper.
One pamphlet is called "Your Unruly Child" (got one of those!); another "Solving Your Child's Sleep Issues" (got those, too!); and another "Your Child's Fears" (yup, lots of those here, too). They are just the sort of maddening informational pamphlets you'd expect to get from your friendly doctor, after a well-child visit—except maybe forty years ago.
Forty years ago when children were expected to be seen and not heard, and the definition of "unruly" behavior was everything, it seems, that didn't involve your child politely offering to set the table at dinner time, or using an inside voice when appropriate, or never running around in public places, or happily eating what you offered them at the dinner table. They were freaks, these 1960s children, I realized as I flipped through the pamphlets, aberrations of nature. My own children, by all descriptions in the pamphlets, are, well...a mess.
At all our children's well child visits, up until about 6 years of age, we used to get a green sheet detailing expected milestones and challenges of that age. Sometimes, when I had a concern or problem, the nurse would listen thoughtfully and return with a pamphlet or sheet for me to read. I always did read them dutifully, but sometimes I winced at the type of information on the sheets—obvious bits of advice about not spoiling, teaching manners, not feeding too much sugar, juice, etc. but the real answers I needed—and craved—just weren't there. Still, I saved each and every sheet and pamphlet, filed away in folders for both children. It's funny how much we want neat answers when we're parents—we expect them, even if so many parents before us tell us not to expect them. When times were rocky with L. and my experiences of parenthood deviated sharply from what books and information sheets told me to expect, I got angry at the sheets--angry that they dared sum up so simply things I was truly struggling with: nursing, naptimes, bedtimes, daily parenting challenges, "unruly" behavior at every turn, just getting my child to eat, please eat.
Leafing through those pamphlets reminded me of just how difficult so much of parenting is, and just how alone you can feel, an exhausted and worried mother, heading out of the doctor's office with your screaming child, your anxious child, or your child-who-won't-sleep, or your child-who-isn't-growing-fast-enough or your child-who-won't-eat, or your-child-who-can't-sit-still-for-two-seconds, and a pamphlet or two tucked into your overflowing bag. Parenthood is the ultimate leap of faith, really. Lots of people are there on the sidelines cheering you on, others are ready to pounce on every mistake you make but, in the end, you have to take the plunge and make it through on your own, using your heart, and your gut, and some common sense.
Somebody needs to put THAT in a pamphlet.