A foodie mommy shares tips, tricks and stories from her kitchen as she seeks out more healthful and interesting meals.
January 21, 2011
Time to bake the doughnuts
Months ago, when I was happily clicking through vegan recipes and websites, I came across this recipe on Vegan YumYum for mini doughnuts. I didn't own a mini doughnut pan, though, and as it turns out, these are incredibly hard to find. Then I got busy with Christmas, and baking Christmas cookies, and I forgot about the doughnuts until a family friend gave me an Amazon gift card. The best thing about an Amazon gift card, is you can use to to buy things you wouldn't normally buy, like this cupcake decorating kit (which didn't arrive in time for T.'s party) or this cupcake stand (which did arrive in time for T.'s birthday party) or you can use it to find things you can't find in stores, like a mini doughnut pan.
On Thursday afternoon, to celebrate my second big meeting of the week being cancelled, and because it felt close enough to Friday, and because it's just been One of Those Weeks, the kids and I came home and made doughnuts--well, T. and I did. L. just waited in the office for them to be done. This was the second time in one week that I made these little gems, since Monday's batch were gobbled up in record time. The last time I tried to make doughnuts they turned out beautifully, but the whole process was long and messy, and it's nice now and again to have a quick and simpe recipe to turn to when you need a little sweetness in your life. I didn't change the Vegan Yum-Yum recipe one bit, and everything worked out beautifully. The glaze was easy and quick to make, and I did try to melt some vegan chocolate chips to make a chocolate glaze, but I think next time I will thin the chocolate out with some soy or coconut milk, since it seemed too thick. The kids preferred the doughnuts almost plain, with just a light sheen of glaze over the top. I liked the ones with sprinkles and Scott, he was happy with them all.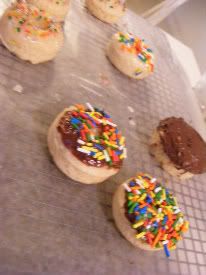 Happy Weekend!