A foodie mommy shares tips, tricks and stories from her kitchen as she seeks out more healthful and interesting meals.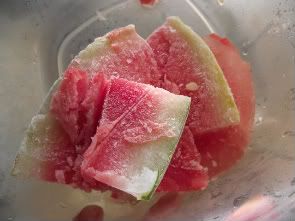 It's hot. It's been really hot for days now. L. and I have settled into a nice routine during the week. Scott drops him off in the parking lot of my college, right after my last class ends. I walk out into the heat, blinded by the light from the bright sun. The warmth feels so good on my skin, though, after hours inside air-conditioned classrooms. Back in my office he sits at my colleague's computer and reads quietly while I photocopy, meet with students, and prepare for classes for the next day. If I move quickly I can reward myself with time to work on my writing project. Sometimes L.'s gets a little restless, maybe an hour into it all, and we'll pack up and head to the public library. There I can open up my laptop again while L. browses the library catalog, and I can write. It's a glorious thing.
The other day we walked back to the car from the library and passed the corner market. An outdoor display was groaning under the weight of piles of heavy, green and white seedless watermelons. We picked out the biggest and most promising looking and took it home. After I picked up T. from school I cut it open (don't you love that cracking sound a good melon makes when you pry it in half?). I cut up half, and turned the rest into the kids' favorite summery dessert: melon ice.
Melon Ice
1/2 cup granulated sugar
3 mint sprigs
Any melon--we've made this with honeydew (T.'s favorite) and watermelon (L.'s favorite), seeded and diced.
FIrst, freeze the melon. I put a tupperware of melon into the freezer in the morning, and then made the melon ice right before swim team practice in the late afternoon.
Take the melon out of the freezer, and let it sit for a little bit. If you froze it with the rind on, this will make it easier to chop. Next, make a simple syrup: place the sugar in a pan with 1/2 cup water. Add the mint and cook over a gentle heat until the sugar dissolves. Remove the pan from the heat and strain the syrup. Discard the mint springs. Stir in 1 1/2 cups cold water.
Place the diced melon in a blender, add the syrup, and puree until smooth. Place the mixture in a freezer-proof container and freeze until it reaches the right consistency. My kids like to eat it slushy, and slurp up the remaining juice with a straw. When the melon ice is still slushy you could also pour it into popsicle molds and make a healthy, frozen treat. You could also make a divine summer grown-up drink, too, by mixing in some tequila or rum, and more mint sprigs for garnish.
I haven't tried THAT yet, but if the heat continues, I might be tempted.
Have a happy weekend!