Creative crafts, book suggestions, and tips to make time for learning in your busy day.
January 2, 2012
Golden new abundance
I've always found New Year's Day to be a bipolar sort of occasion, marked by extreme opposite ranges of emotions all crowding in for time in the spotlight. Even as a young child, I always felt both the thrill of a new year and the weight of the passage of time. I remember being awed and saddened, too, by the idea that one year was gone forever. I was often, on New Year's Eve, kept awake by the thought that a new year awaited, stretching out ahead like an empty patch of ocean, and that the familiar landscape of the poor old year, with all its bumps and glorious parts, had receded away into the distance.
It didn't help matters that this New Year's Eve, L. slept with a heavy pipe wrench in his bed, to ward off maruaders. He's been worried about all the 2012 end-of-the-world business for quite some time, and was in an anxious panic.
I often spend New Year's Day feeling a little melancholy. Everything seems a bit anticlimactic after the rush of the end of the semester, and the warmth and togetherness of the holiday. It seems I spend the days leading up to the New Year mulling over the flip side to everything: the Christmas decorations we pulled out of bins with such excitement and anticipation now seem a little burdensome, and I can't wait to reclaim the corner of the dining room where the tree is now, and to get the top of my buffet back. Yet when we pull them out again next year, we will all be one year older, of course, and who knows what this next year will bring? The kids start back to school on Tuesday, and it's been so lovely to have them home, even with the bickering and the ups and downs and the I-want-to-pull-my-hair-out moments. I'll be glad to start a new semester and see new faces and old ones, too. But I haven't done a thing to prepare yet, and the start of a new semester looms over me like some dark, worrisome thing--like a dentist appointment, or a final exam you haven't studied for.
But then there's the vasilopita--the Greek New Year's bread, the perfect sweet-and-yeasty way to soften the sting of a new year.
I tinkered with a vegan vasilopita bread recipe last year and while it yielded a delicious cake-like bread, it just wasn't the vasilopita of my childhood--the taste I crave each New Year's Day. So this year I decided to veganize my mother's own recipe. I was daunted by the prospect of doing this last year, because the recipe calls for FIVE eggs. But I thought, this year, why not? Why not just use egg replacer for those five eggs, and see what happens?
As I kneaded the dough, I was comforted by the knowledge that my mother was probably doing the same thing in her kitchen, in the house I grew up in. But the whole time I was acutely aware of the fact that a link in the chain has been broken--that my grandmother is gone. Suddenly the sweet smell of the dough seemed to fill the kitchen with sadness and absence. But then, elbowing the melancholia away, was the happy thought that I was sharing this important tradition with my own family, and that the bread was more than just a combination of yeast and flour and sugar--but a legacy of sorts. And I know that when the dough will bake later today and rise in the pans, spilling over the sides and onto the stove in golden abundance, my kitchen will fill with love and tradition and past, present, and future, all mixed together, as they should be.
And here's my veganized recipe for vasilopita--the Greek New Year's bread I make. I got it from my mother years ago, when I first decided to start making my own. Tradition has it that you drop a small foil-wrapped coin into the batter as you knead it. When you cut into it on the first day of the new year, the person whose piece contains the coin will get an abundance of good luck all year long. I remember completely gutting my own piece on my plate when I was a kid, in frantic search for the lucky coin. I can see that my kids have learned to do the same!
Vegan Vasilopita (New Year's Bread)
1-1/2 cups lukewarm non-dairy milk (I used soymilk)
4 packets of yeast
1 cup sugar
1 cup softened Earth Balance (original, not whipped)
Ener-G egg replacer for 5 eggs
8 cups all-purpose flour
Dilute the 4 packets of yeast in the lukewarm soymilk. Add sugar and Earth Balance. Mix in the Ener-G replacer, and stir in the flour until the dough is soft (it shouldn't be sticky).
Cover bread and let rise until it doubles in size (I have no idea how long this will take--but be prepared to devote most of your day to punching down dough). Punch the dough down, cover, and let it rise again. Then punch it down, knead in the silver coins until they're hidden, split dough into two pans, and let it double again. Pinch off some dough bits to shape into the year or into other designs.
Little fingers have a hard time resisting the fragrant, soft dough
Bake at 350 for about half an hour. Again, this isn't an exact science. Every year my bread comes out different--sometimes a tad doughy on the inside, other times a bit dry.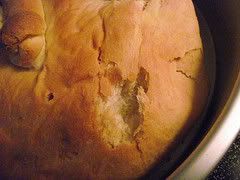 The flavor is always wonderful, though, thick and yeasty, and perfect with a strong cup of coffee or tea on the first morning of the brand new year. It was hard work to keep the kids away from the baked bread and, as you can see, ONE of the kids couldn't resist scraping a hole in the top to sample this year's vasilopita.
Happy 2012!